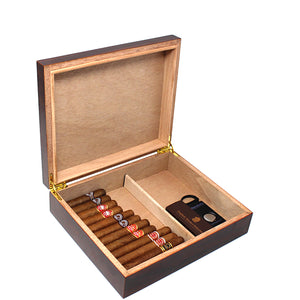 Our Connoisseur Collection comes in classic Walnut Humidor for 20 cigars with following cigars:
2 x Montecristo - Media Corona (3 1/ x 2)
This world's most sought-after cigar is described as "tangy", certainly the flavour is distinctive.
2 x Montecristo - No.5 (4 x 40) 
Arguably, the most famous of all the Cuban cigar lines. Truly excellent smoke. Woody notes are easily identifiable on the palate.
2 x H.Upmann - Half Corona (3 ½ x 44)
When time is short and nothing but a Cuban will do, this is the go to cigar. It's a subtle light and fragrant cigar and great in the morning with an espresso.
2 x Regius - Corona  (5 1/8 x 42)
A medium bodied cigar, totally hand made in Nicaragua. Very rich, with notes of pepper and dark chocolate.
2 x Romeo Y Julieta - Petit Corona (5 1/8 x 42)
A classic vitola and a must try in the world of the fine Habano Cigar. Medium bodied with an elegant creamy smoke. 
2 x Partagas - Shorts (4 3/8 x 42)
This small cigar should not be underestimated. It's a powerhouse of full flavour displaying the classic pepper and mixed spice notes once can come to expect with the Partagas brand.
With gift box, matches and cutter